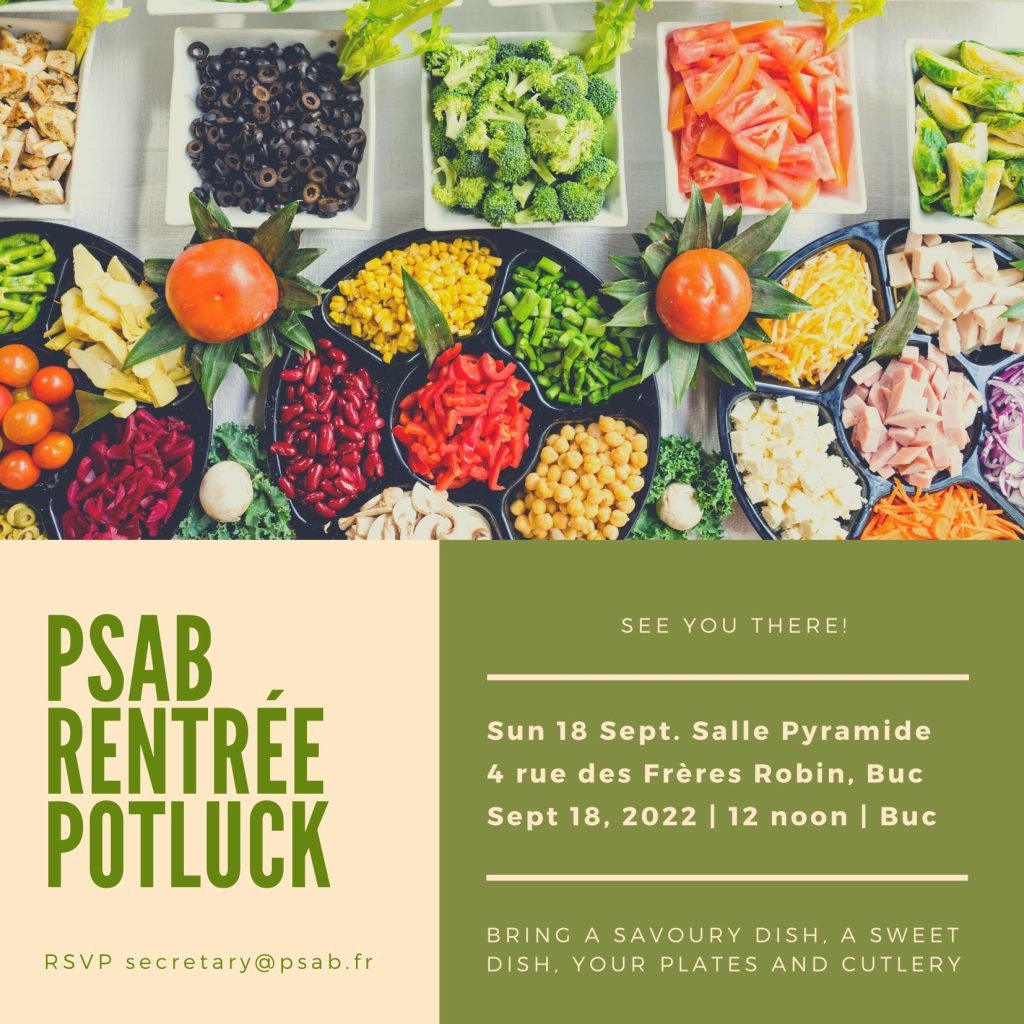 Join PSAB families at the Espace de la Pyramide, 4 rue des frères Robin, Buc, from 12 noon, for our Back-to-School Potluck lunch.
It's a great chance to catch up with old friends and meet new ones, share some great food, and help shape PSAB's activities for the year. There'll be a digital treasure hunt and other activities to occupy the children. Please bring:
a savoury and a sweet dish to share
your own plates, glasses and cutlery* , and a bag to take your dirty dishes home in (as there are no washing-up facilities on site)
– your unwanted books in English (and in good condition) for the give-a-book-take-a-book stall
You can renew your membership of PSAB for 2022-23 in advance at http://psab.fr/join-or-renew.
Saltimbuc on Saturday 11 June – Bures sur Yvette
Students in the SIB have the possibility of joining the English drama club SaltimBuc, an initiative of the PSAB parents association.
This all-English-language activity meets Saturday afternoons from 3 – 5pm in the Maison des Associations in Buc. It welcomes approximately 30 bilingual students from the primary, college and lycée in a fun, friendly, and dedicated effort toward two common goals: improving our expression and communication skills and putting on a great show!
No previous experience is required – we are happy to welcome anyone with a fresh spirit and desire to have fun in English
The troupe was founded by the PSAB and Mirabelle Kirkland in 2009, and kicked off its stage career with highlights such as Alice in SIA-land and Kids' Eye View, performances entirely written by the kids themselves.
Following the huge success of The Treasure of Ignoramus Wrongwrite, a play written and directed by Mirabelle Kirkland, and performed 7 times in 2012 & 2013, the troupe went on to create their very own brand new show from improvisation. And the Winner is… was the result of 2 years hard work and combined acting, singing and dancing skills in a sparkling show along the lines of the Tony Awards for Best Musicals. Both the audience and of course the cast walked the Red Carpet for an evening of glamour and behind-the-scenes tensions, providing a very enjoyable evening for the whole family.
In 2016 the troupe staged The Adventures of Robin Hood and an all-time record of nearly 600 tickets were sold for the 3 performances! Well done guys!
Check out this clip from The Adventures of Robin Hood (Sherrif Song):
https://www.youtube.com/watch?v=XtoTB2yaSCQ&feature=youtu.be
2017 saw Saltimbuc perform Pauper Princess, followed by Alice in Wonderland (2018), The Wonderful Wizard of Oz (2019). After the pandemic, Greek Myths 2.0 in 2021, and Murder in the Knife Room (2022).